Suites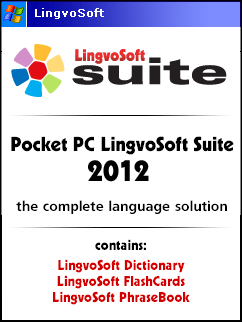 LingvoSoft Suites are the integrated language management solution perfect for students, travelers and professionals alike.
A fully integrated all-in-one solution
Saves up to 23% compared to separate products
New exciting LingvoSoft Suite features include:
Customized solution for any segment
Advanced integration thanks to a new Application's manager (TM)
Lower price than ever
Windows Mobile for Windows Mobile ready
Click here to find out more.
FlashCards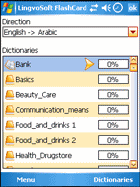 LingvoSoft FlashCards are the fun way to increase vocabulary and improve spelling. Featuring 4 engaging language-learning games they are the smart choice of learners everywhere.

Click here to find out more.
PhraseBooks
LingvoSoft PhraseBooks are perfect travel companions and learning resources. Containing 14,000 first-use words and phrases, all of the travel-oriented phrases within these handy applications can be spoken out loud to help improve pronunciation as well as increase vocabulary. When installed on you Windows Mobile the talking version of this software is capable of pronouncing common phrases for both of the chosen languages.
Click here to find out more.
Dictionaries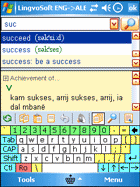 Comprehensive and extensive translating dictionaries for multiple language combinations, they can contain over 1,000,000 words and phrases available for instant translation in either direction.
State-of-the-art TTS (text-to-speech) technology
Advanced Spell-Check functions
Part of speech, gender, comment, transcription for English entries
Click here to find out more.
Picture Dictionaries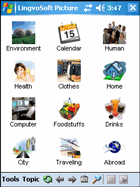 LingvoSoft Talking Picture Dictionary for Windows Mobile makes communicating and learning another language as easy as child's play. No matter what your age or skill level, a simple system of pictures lets you quickly find a word and translate it
Main features
Thousands of high quality, color pictures for every entry
High-definition digital recordings of native-speakers
Fast and convenient vocabulary building
Requires no prior knowledge or language skills
Customizable interface with English, French, German, Spanish and Russian display languages
Fully integrated with LingvoSoft FlashCards, PhraseBook, and Dictionaries
Click here to find out more.
Full Text Translation Software
Providing coherent translation of full text files this software is perfect for anyone working with foreign languages. Not limited to short amounts of text, this unique software can translate complete letters, e-mails, Web Pages and more on your Windows Mobile.
Main features:
3 way text entry translation feature
Text can be spoken aloud using the latest TTS (text-to-speech) voice synthesis (talking models only)
Integration with Pocket Internet Explorer and Pocket File Explorer
And much more
Click here to find out more.
Software Bundles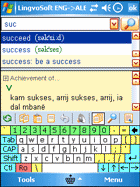 Bundles are the smart and affordable way to get the most out of your device. They feature the full range of applications available for a particular language or region and are available for the most popular platforms and OS including Windows, Windows Mobile, Palm OS, and Mobile Phones. These economic collections provide for all the devices you now have or will have in the future and offer access to a whole new world of intelligent language management.
Click here to find out more.