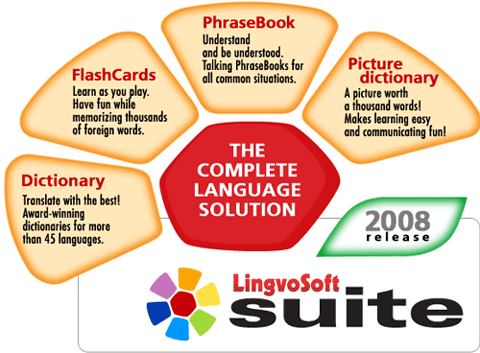 Windows Mobile Software Suites
Windows Mobile Software Suite is a complete language solution for your PDA. We offer different kinds of software packages depending on your needs and interests.
This essential set of Windows Mobile software includes:
Bi-directional Talking Dictionary with an extensive 400,000 word vocabulary
Talking PhraseBook with 14,000 travel-related phrases divided by common situations you may encounter while abroad;
FlashCards language learning application to help you memorize new vocabulary as you play
Taken together these applications deliver instant translations, offer quick and easy search functions, and supply valuable educational games — instantly turning your PDA into your own personal language learning and communication assistant.
3 reasons to buy
LingvoSoft Suite
for Windows Mobile:
A fully integrated all-in-one solution
Saves you up to 23% compared to separate purchases
New exciting LingvoSoft Suite features include:
Customized solution for any segment
Advanced integration thanks to a new Application manager (TM)
Lowest price ever
Latest Windows Mobile platform ready
If you need a more comprehensive solution while away on business, for example, you can take advantage of our
LingvoSoft Professional Suite
which features a
Full Text Translator.